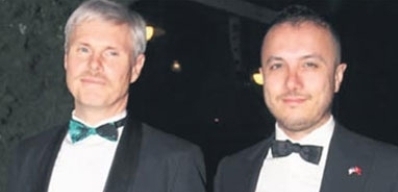 Diplomats in Turkey are in shock, reported Sabah daily of the country.
According to the daily, US Consul General in Istanbul, Charles F. Hunter, plans to marry his Turkish boyfriend, Ramadan Caysever.
The diplomat and Caysever had first met in a ceremony at an Istanbul church, where Caysever was performing a concert, and the two developed a relationship.
The Turkish musician has already moved in with Hunter in Istanbul, and has accompanied the consul general to events.
After receiving a marriage approval from the US Department of State, the "couple" has decided to "tie the knot" by late December.
They have decided to register their marriage in the US State of Wisconsin, which is among the states that have recently legalized same-sex marriages.
They will return to Turkey after spending their Christmas vacation in the United States, and will host a separate wedding banquet in Istanbul.