In Karen Demirchyan Sports and Concerts complex the largest Christmas exhibition-market was opened – "Big Christmas market with Coca-Cola 2023".
This largest scale New Year and Christmas event organized by Big Projects LLC includes over 280 businesses of different sizes, as well as individuals who showcase their handmade products.
Most of the companies are Armenian SME, which are able to stand side by side with international large brands on the same platform. In the framework of the exhibition there will also be a social corner, where several public and charity organizations will be presented.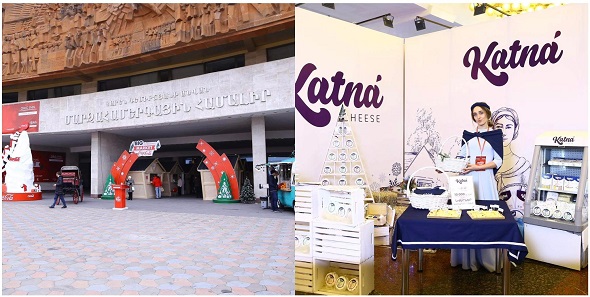 It is already the second year that Galaxy Group of Companies acts as the general partner for the Big Christmas Market.
"We are glad to have our continuous participation in this exhibition-market as general partner. Such platforms greatly facilitate the activeness of the Armenian business environment in Armenia",–noted co-founder and CEO of Galaxy Group of Companies Aram Khachatryan.
The objective of the event is to combine New Year shopping with interesting pastime, as well as to promote a stronger link between producers and consumers in Armenia, allow businesses to present their products for a large number of visitors at once and, indeed, use the exhibition as a tool for brand promotion. The organizers had been preparing for the event since June.
The visitors were welcomed by the organizer of the exhibition "Big Projects" company's founder-director Hamlet Khnkoyan.
"Our team did not spare efforts to prepare for this day since June. Thanks to the 280 partners who trusted us, despite the instable and difficult times. I am sure that this is a good opportunity to combine pleasant with useful – doing New Year shopping from one place and promoting consumption of local products".
Minister of Economy of the Republic of Armenia Vahan Kerobyan, Mayor of Yerevan Hrachya Sargsyan, Chairman of the Tourism Committee of the Ministry of Economy of the Republic of Armenia Sisian Poghosean were present at the official opening of the exhibition-market.
The general partner of the exhibition is Coca-Cola HBC; the main sponsor is Orig Inn market company.
The doors of the Big Christmas market with Coca-Cola 2023 are open during 23-27 December at 12:00-23:00 o'clock.
Entrance is free.
Every hour free buses will operate from the Republic Square to the Sports and Concerts Complex.